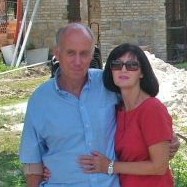 Here we are, Ken and Lynne Treves amidst the renovation. We moved to Italy in 2004 having bought a few old properties in need of restructuring /renovation.

An ugly old house became Villa Antonio and a block garage was razed to the ground to build Hunters Lodge. It was always our intention to develop two properties, one for us to live in and one designated for summer lets. We have finished Hunters Lodge, turned a pig sty into a beautiful pool house and installed a small exclusive swimming pool for guests.

Hunters Lodge is available for summer rental. It's in a perfect setting, just far enough out of town to avoid the everyday bustle of village living, (although there's nothing hurried about the way of life here), but only 5 minutes away by car to all amenities.